FOR IMMEDIATE RELEASE 
Angry giraffe 'Kirini' parades through Seoul ahead of Kerry visit and Biden climate summit
A blue giraffe mascot named 'Kirini' is leading actions in Seoul urging global leaders, including President Moon Jae-in, to announce a 2030 coal phase-out year and enhanced 2030 emissions reduction targets ahead of key climate and sustainability summits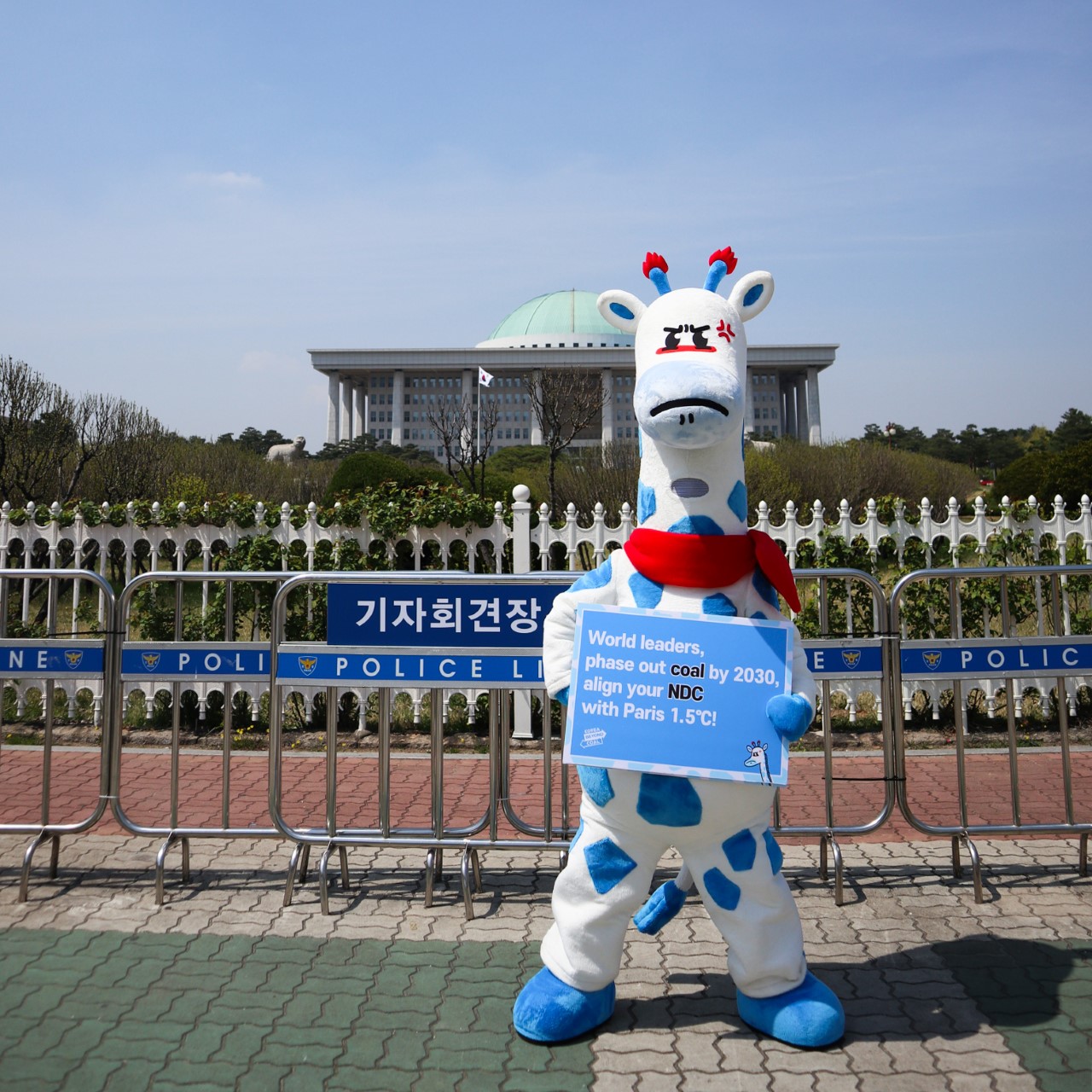 'Kirini' giraffe mascot holds a sign in front of Korea's National Assembly Hall in Seoul
April 16, 2021 SEOUL, Korea – Ahead of key international climate events, including the U.S. Special Presidential Envoy for Climate John Kerry's visit to Korea, U.S.-led Leaders' Summit on Climate next week, and the Partnering for Green Growth and the Global Goals 2030 (P4G) Summit to be held in Seoul next month, a blue giraffe mascot called 'Kirini' is standing at symbolic landmarks in Korea's capital urging for global leaders to phase out coal power by 2030 and declare Paris Agreement-compliant climate targets. 
The two-day campaign, which started on Thursday, features a mascot named 'Kirini' (based on the Korean word for giraffe, kirin), a character developed by Korea Beyond Coal, a civic network urging for coal phase-out by 2030. One of the minds behind the mascot, Arin Jeong, explained: "Kirini is a giraffe that's travelled back in time from the year 2045 to combat the climate crisis – which has turned its skin blue." The plush mascot led actions in front of major Seoul landmarks including bustling Gangnam Station, the National Assembly building, Seoul City Hall Plaza, the Ministry of Foreign Affairs, and the Blue House to inform citizens that Korea and the international community need bolder commitments to combat the climate crisis. Kirini held a sign urging global leaders to phase out coal power by 2030 and align their countries' Nationally Determined Contributions (NDCs) with the 1.5C Paris-Agreement pathway.  
With South Korea being the tenth largest economy in the world and ranking seventh in carbon emissions, the country has often been called a climate laggard. According to a joint statement released by the civic group coalition, of the 26 countries representing over 90% of global greenhouse gas emissions, invited to the U.S. climate summit, it ranks 22nd in terms of climate action. Its most recent NDC submitted to the UNFCCC was a reduction of 24.4% below 2017 greenhouse gas emission levels of 791 million tons CO2e. However, according to a joint report by Climate Analytics and Solutions for Our Climate, a 1.5C-aligned 2030 emissions target should be a 59% reduction below 2017 levels, or 291 million tons CO2e.  
"Korea needs to reduce greenhouse gas emissions by at least 50% and beyond in 2030 below 2010 levels," said the civic group coalition in a joint statement. "An expedited strategic plan to phase out coal power plants, which according to the current administration's plan will be operating until 2054, by 2030 is imperative." 
Jeehye Park, director at Solutions for Our Climate, one of the organizations in the Korea Beyond Coal campaign, said: "The upcoming Biden Summit marks the first international summit of the year – countries will be expected to announce ambitious climate targets. Korea, no doubt, will be in the spotlight as host of the P4G Summit." She added: "If Korea comes empty-handed without a 1.5C-aligned NDC, it would be an international embarrassment."  
ENDS. 
Korea Beyond Coal (KBC) campaign is a coalition of civic groups in South Korea seeking to phase out coal by 2030 and push for just transition from coal to renewables.