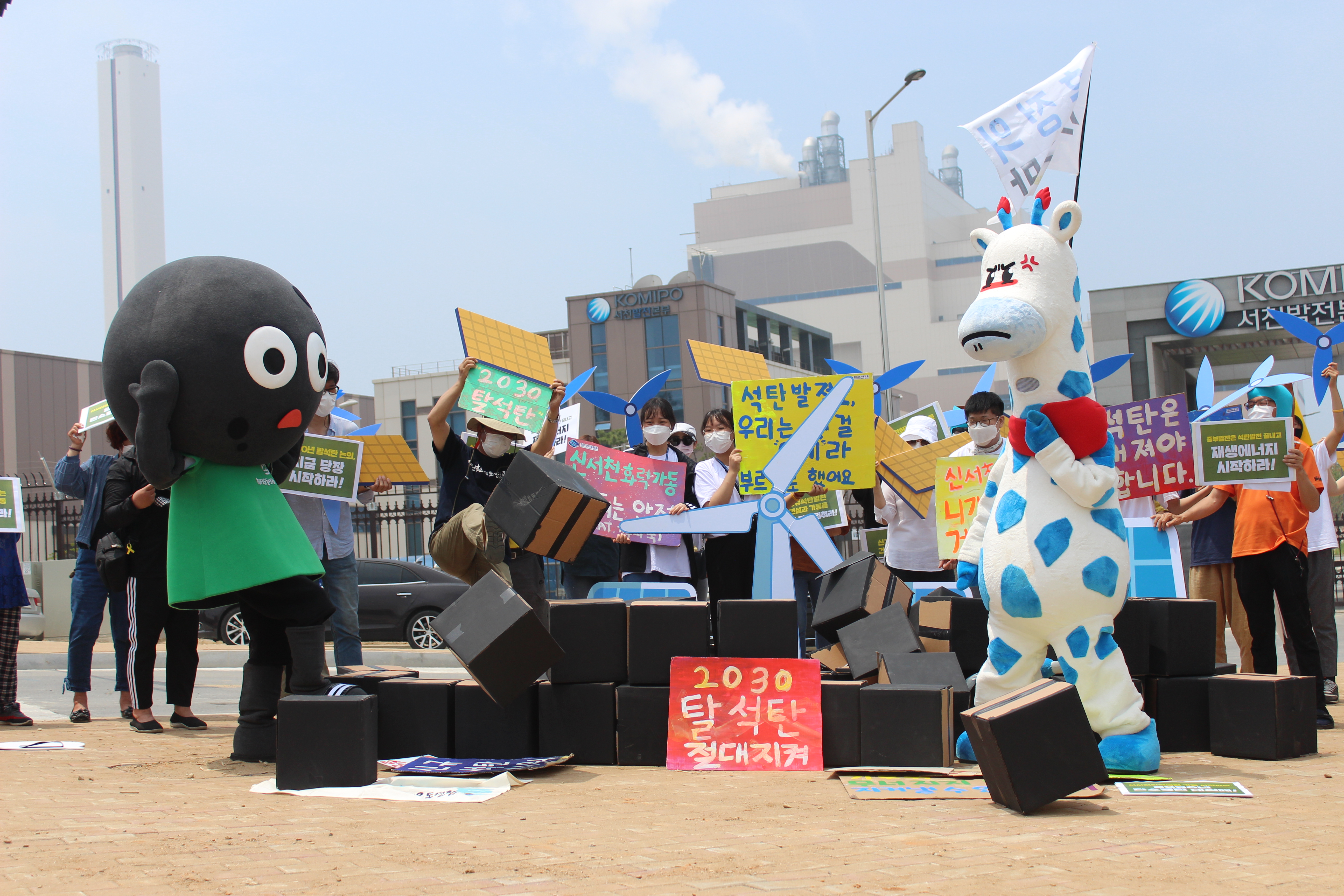 S. Korea starts new coal plant despite carbon neutrality drive
Residents and activists question Moon administration's climate and air quality ambitions as new coal plant begins operations in province hosting half of South Korea's coal power fleet
July 1, 2021 - On Thursday, climate activists and local residents demonstrated in front of the Shin-Seocheon coal power plant in South Korea as it revs its engines for operations. Located in South Chungcheong Province, which hosts half of the country's coal fleet, the 1,000-megawatt coal plant is the first to start operations after the carbon neutrality pledge by the Moon Jae-in administration, which has claimed to have "drastically reduced its reliance on coal for power generation" at the U.S. Leaders Summit on Climate in April.
Korea Beyond Coal – a national network of civic groups advocating for coal phase-out by 2030 -- and local groups including Climate Crisis Chungnam Action and the Seocheon Fine Dust and HVDC Transmission Line Damage Response Committee led the demonstration in front of the Seocheon coal power plant, urging the Korean government to cancel new coal power projects and announce a roadmap for coal phase-out by 2030 (photos posted here). 
The Shin-Seocheon plant, which was approved by the Park administration in October 2015 and will be run by Korea Midland Power, a subsidiary of the majority state-owned Korea Electric Power Corp., is expected to emit nearly 7.6 million tons in greenhouse gas emissions per year. The Moon government frequently defends its coal power record by saying that it has not approved new domestic coal power plants since its term began, although it has not canceled seven gigawatts of coal power projects. 
Bae Yeo-jin, campaigner at Solutions for Our Climate, a member of the Korea Beyond Coal coalition, said:  
"It's simply not enough for the Moon administration to defend itself by saying it has stopped approving new coal power projects. The conversation among advanced economies has already moved on to by when and how they will phase out their coal fleet to tackle the climate crisis. The fact that the Korean government is allowing new coal power plants – the country's largest source of emissions -- to run in the middle of a climate emergency raises questions about the sincerity of its carbon neutrality drive. 
If South Korea wants to be taken seriously as a candidate to host COP28, climate action must start here at home – and the most meaningful way to do that is to cancel new coal power projects such as Shin-Seocheon, Gangneung Anin, and Samcheok Blue Power, and ramp up renewables as quickly as possible." 
The Shin-Seocheon coal plant is particularly a hot-button issue in South Chungcheong Province, which hosts approximately half of Korea's power fleet. Mass demonstrations in 2016 led to the cancellation and conversion of the 1,160MW Dangjin Ecopower coal power project in 2017. The last coal power project to start operations in South Korea was the Shin Boryeong coal power plant, also in South Chungcheong Province, in October 2017.   
Chae Jong-kook, director of the Seocheon Fine Dust and HVDC Transmission Line Damage Response Committee and a resident of the plant's community, said:  
 
"Our community has been plagued by coal power pollution for the past four decades. The last Seocheon coal plant was shut down after 35 years in 2018, but with the Shin-Seocheon plant starting again in its place just three years later, we have to face unbearable air quality once again, and it is triggering painful memories. We demand the Korean government put an immediate stop to Shin-Seocheon coal plant's operations if it truly believes in tackling fine dust and pursuing carbon neutrality." 
Calls internationally for South Korea, which has yet to announce a coal phase-out year, to begin coal exit discussions have been rising. In April, UN Secretary-General Antonio Guterres urged Korea and Japan to phase out coal power by 2030. In a letter to President Moon, Al Gore reminded that "there is now a clear consensus on the need for industrialized nations like the United States and South Korea to phase out coal completely by 2030." The IEA has also called for coal phase-out by 2030 in OECD countries like South Korea to reach global carbon neutrality by 2050. In an op-ed published in June, the UK and Canada's climate envoys encouraged South Korea to "set a domestic coal phase-out date by 2030 or soon after that meets the goals of the Paris Agreement and committing to build no new coal plants."  
South Korea, the world's eighth-largest CO2 emitter, relies on coal power to meet approximately 40% of its electricity generation. A previous study by the Centre for Research on Energy and Clean Air has shown that coal power in Korea causes nearly a thousand premature deaths a year. 
In September 2019, at the UN Climate Action Summit, President Moon proposed an International Day of Clean Air for Blue Skies, on which its inaugural day on September 7, 2020, the Korea Beyond Coal civic group coalition, which demands for the stop to new coal power construction and a 2030 coal phase-out, was launched. Whether the coalition's demands for a 2030 coal phase-out and cancellation of current projects will be reflected in the Korean government's Carbon Neutrality Implementation Plan has yet to be seen.   
The coalition recently extracted commitments from Korean asset managers accounting for 88.6% of the domestic bond market to not invest in bonds of the 2,100-megawatt Samcheok Blue Power coal power project, the last coal power project in Korea. In June, Korea Beyond Coal obtained statements from nearly half of Korea's coal insurance market pledging not to provide insurance for new coal power project construction and operations.  
ENDS.  
Korea Beyond Coal is a network of 25 civic and environmental groups advocating for a phase-out of coal power in South Korea by 2030. 
Climate Crisis Chungnam Action is a climate coalition of 34 local organizations and individuals located in South Chungcheong Province. 
The Seocheon Fine Dust and HVDC Transmission Line Damage Response Committee is a local civic group in Seocheon County.  
Photos of Shin Seocheon coal plant and demonstration can be found here: 210701 - Shin Seocheon Coal Power Plant & Action
 
For media inquiries, please contact:    
Jessica Yun, Communications Officer | Solutions for Our Climate