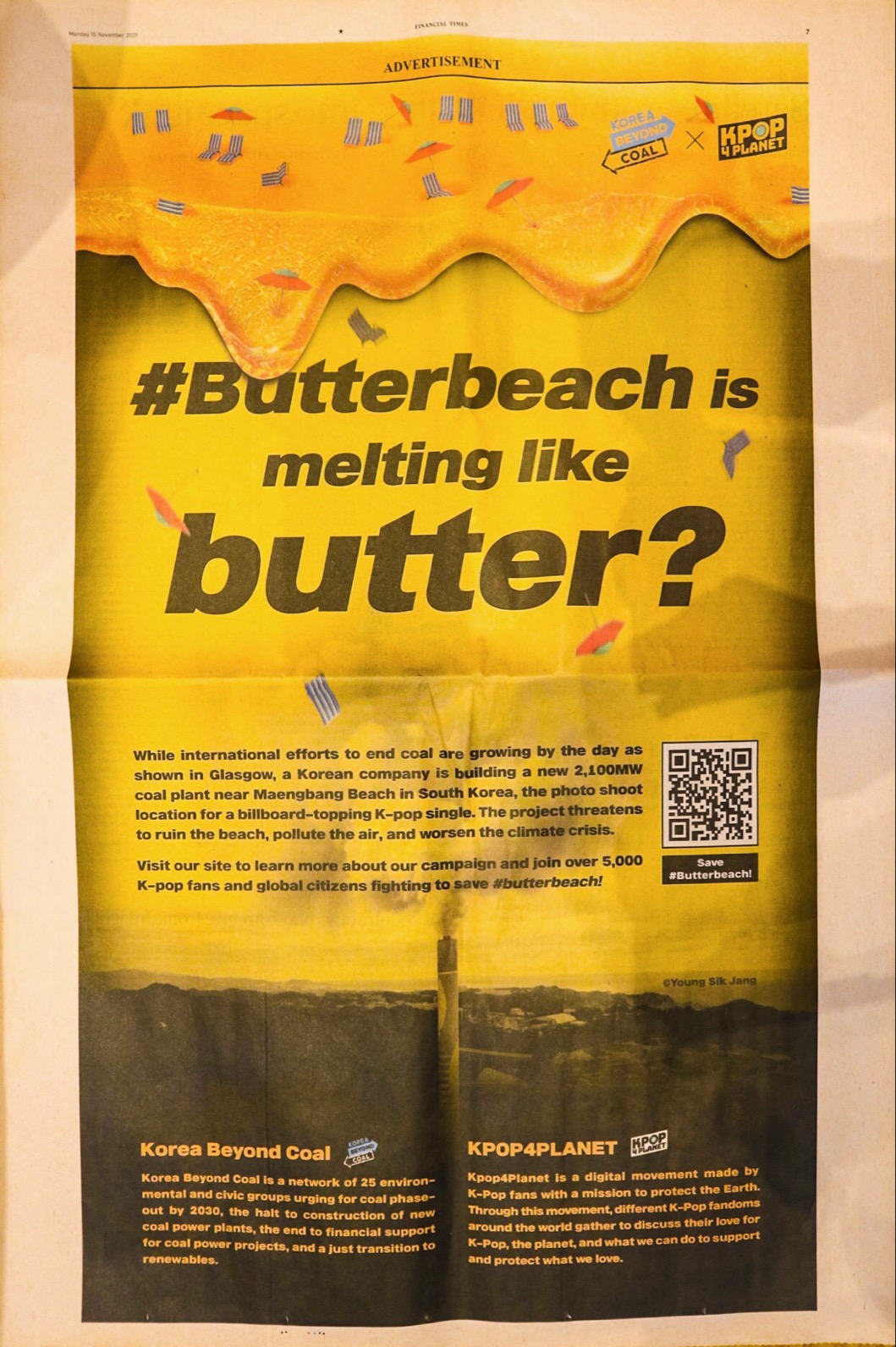 In FT ad, K-pop fans protest coal project 
threatening BTS' "Butter Beach"
After more than 40 countries pledge to phase out coal at the COP26 global climate summit, K-pop fans have banded together to publish a full-page advertisement in the Financial Times Asia targeting the last coal power project in South Korea.
 
November 15, 2021 – On Monday, Kpop4Planet, a coalition of K-pop fans committed to climate action, and civic coal phase-out network Korea Beyond Coal jointly launched a full-page advertisement in the Financial Times Asia calling to halt the construction of Samcheok Blue Power, the last coal power project in South Korea.
The advertisement reads "#Butterbeach is melting like butter," referring to 
the coal project's contribution to the climate crisis and erosion of Maengbang Beach on the eastern coast of Korea, a photoshoot location for K-pop sensation BTS' megahit single "Butter."
The latest move is part of the two groups' Save Butter Beach campaign, which has brought international attention to the 2,100-megawatt (MW) coal power project through a petition. The project, if operated, is expected to add more than 13 million tons of greenhouse gas emissions to the atmosphere every year.
"Millennials and Generation Z, who make up the majority of K-pop fans, are most directly impacted by the climate crisis," said Dayeon Lee a youth climate activist at Kpop4Planet. "As a BTS fan, it is upsetting to see that a BTS album photoshoot location is on the brink of erasure. But it is even more concerning from a climate action perspective that there is yet another coal plant being built."
The advertisement follows Korea's recent announcement to join the Global Coal to Clean Transition Statement during COP26, which committed major economies to phase out coal in the 2030s. If South Korea stays true to the spirit of the statement, the lifetime of Samcheok coal power plant, originally scheduled for commissioning in 2024, but likely to be delayed to 2025, would be reduced from 30 years to 15 years, halving the project's expected profitability.
Thailand-based Kpop4Planet activist Monprariya Lobnongbua added: "The construction of Samcheok coal plant near Butter Beach is troubling to fans worldwide, not just in Korea. In fact, there have been over 1,000 retweets of the Butter Beach campaign by ARMYs in Thailand. It is bewildering that South Korea signed on to a global coal phase-out pledge calling on major economies to end coal by the 2030s and then proceeds to build a new coal plant in the middle 
of a climate crisis."
Samcheok Blue Power, a subsidiary of POSCO Energy, a private power producer, has long been ignoring calls for the discontinuation of its coal project. Despite its failure to secure corporate bonds, Samcheok Blue Power has even attempted to obtain short-term loans to support construction of the project. With the financial sector turning its back on the project, and international expectations for South Korea to phase out coal in the 2030s as a major economy, the financial viability of Korea's last coal project faces further challenges.
In response to the campaign, Jeehye Park, coal program director of Seoul-based research and advocacy group Solutions for Our Climate, and secretariat for the Korea Beyond Coal campaign, said: "Both the government and financial market in Korea are turning away from the Samcheok coal power project. The most cost-efficient option for Samcheok is to immediately suspend construction, and prevent adding further to the sunk costs. It is necessary to preserve Maengbang Beach, which has become an environmental and cultural icon, for the citizens of Samcheok and K-pop fans worldwide."
Park added, "We hope that the 'Butter Beach' publicity can inform readers around the world about how outdated Korea's domestic coal policies are, and serve as a reminder that coal is a global issue that fuels the climate crisis."
ENDS.
Kpop4Planet is a digital movement made by K-pop fans with a mission to protect Earth. Through this movement, different K-Pop fandoms around the world gather to discuss their love for KPop, the planet, and what we can do to support and protect what we love.
Korea Beyond Coal is a network of 25 environmental and civic groups urging for coal phase-out by 2030, the halt to construction of new coal power plants, the end to financial support for coal power projects, and a just transition to renewables.
Access relevant images, including a copy of the advertisement, here.
For media inquiries, please reach out to:  
Euijin Kim, Solutions for Our Climate, Communications 
Officer, euijin.kim@forourclimate.org
Yiseo Kim, Kpop4Planet, Climate Activist, ys.kim@kpop4planet.com